Welcome to Umeyashiki Ryokan
Umeyashiki Ryokan is located on a hill in the heart of the peaceful Nikko a six minute walk from the vermillion-lacquered Shinkyo Bridge. There are many ume (Japanese plum) trees in the garden at the old site of Kosho-an completed by Osho Santei at the old site of Rinnoji-ji Temple gate in 1857. This gave birth to our name of "Umeyashiki" (lit: "Japanese Plum Residences"). You will find Ogurayama Natural Botanical Garden to the east; the 2,000 meter Nikko Reiho to the north; Toshogu Shrine and Rinno-ji Temple appearing in the middle of the forest to the west; and seasonal flowers blooming in a large garden to the view of the distant Kanto Plain from the city to the south. Please make sure to enjoy a visit here.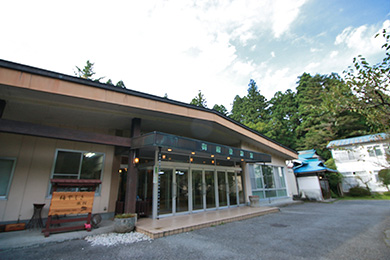 ---
Basic Information
| | |
| --- | --- |
| Name | Umeyashiki Ryokan |
| Address | 2398 Hangakimen, Nikko, 321-1414 |
| TEL / FAX | +81-288-54-1145 / +81-288-54-1147 |
| Check-in / Check-out | From 17:00 / Until 10:00 |
Wanoshiro Onsen
Source: Wanoshiro Onsen Efficacies: nerve pain and muscle pain This colorless and transparent thick hot spring is a simple thermal hot spring with alkalinity that is great for the skin. We have two large public baths for men/women and a family bath. You can enjoy the colors of the four seasons from the large window of the public bath.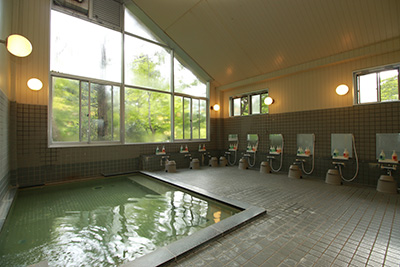 ---
Guest Rooms
12 tatami mat Japanese-style rooms: 6
14 tatami mat Japanese-style rooms: 13
You can pass the time quietly and in a relaxed manner in our spacious Japanese-style rooms.
All our rooms come with toilets that have bidet functions and baths.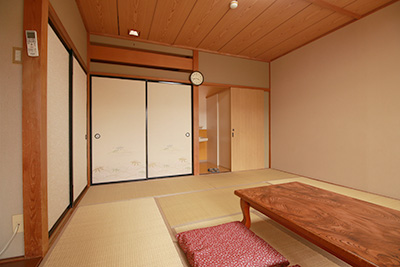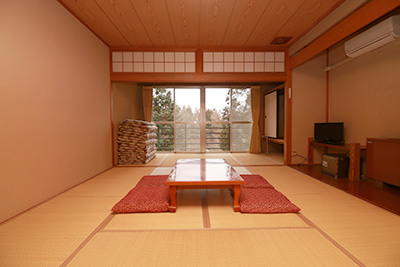 ---
Guest Rooms
You are free to help yourself to coffee or tea at any time during your stay in our elegant inn where the traditional vestiges of Japanese ryokans (inns) still remain. We have PCs connected to the Internet in our lobby available for guests.
We stock various Nikko specialties and confectionary in our shop.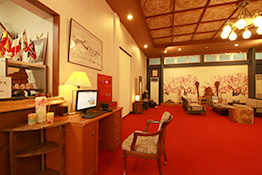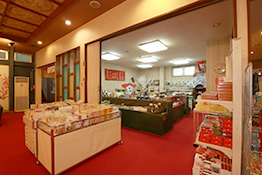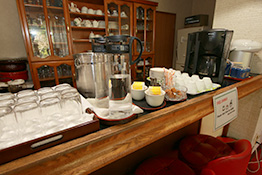 ---
Overview of Our Inn
Inn Facilities
12 tatami mat Japanese-style guest rooms, 14 tatami mat Japanese-style guest rooms,
large 100 tatami mat banquet room with a stage and mid-sized 42 tatami mat banquet room,
coffee room, bar, souvenir shop, indoor baths (one each for men and women) and a parking
lot with spaces for 10 midsize vehicles and 50 compact vehicles
Guest Room Facilities
Air conditioning, toilet, television and refrigerator
Amenities
Towel sets, yukata (light cotton kimono), toothbrush sets, shampoo and conditioner,
body soap, regular soap, combs and shaving kits
Yuba Cuisine
We serve food that will make you feel a sense of nostalgia using specialties of Nikko, yuba (tofu skin) cuisine and
seasonal ingredients. Please savor the various tastes of yuba, the flavors of seasonal ingredients and the delicate flavors
unique to Japanese cuisine. We use Japanese beef in our main dishes. We switch to soy milk nabe (hot pot) and
tobanyaki (ceramic plate grill) depending on the season.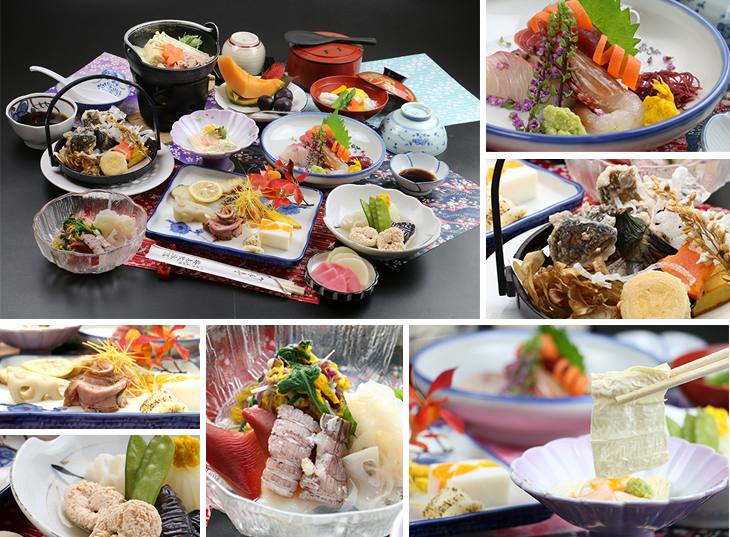 Local Ingredients with History
People gathered from all over Japan in both Kyoto and Nikko in the era when sangaku shinko (mountain worship) thrived.
Many monks and mountaineering ascetics came to Nikko as a place to practice Buddhism centered on Rinno-ji Temple.
At that time, yuba was favored as a healthy ingredient instead of fish and so it enjoyed popularity as shojin ryori (vegetarian cuisine of Buddhist monks). Ieyasu Tokugawa came to be enshrined in Nikko in the Edo Period (1603 to 1868) and yuba was
firmly established for use in meals given to worshippers.
Yuba then spread to the general population in the Meiji Period (1868 to 1912).
This taste that remains unchanged from the olden days has now been passed down to the current generation.
Breakfast
We serve hearty Japanese-style breakfasts with a good nutritional balance. We use the famous yuba for both our boiled tofu and miso grill.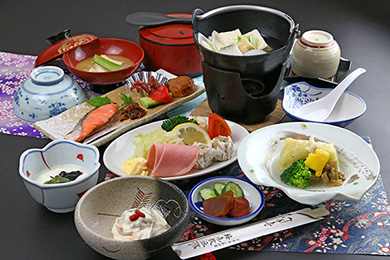 ---
Access
Train
Tobu Asakusa → 1 hour and 40 minutes → Nikko
JR Ueno → 1 hour and 40 minutes → Nikko
Approx. 8 minutes by taxi from in front of the station (2km in the vicinity of Shinkyo)
Car
Metropolitan Expressway → 1 hour → Utsunomiya IC → 20 minutes → Nikko IC →
6 minutes → Umeyashiki Ryokan


---